M9M9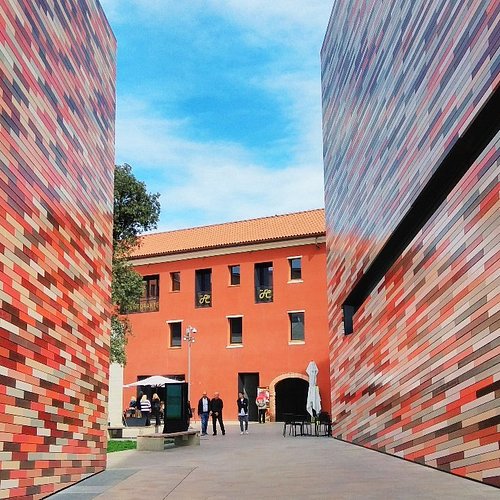 Avis (4)
So, who are italians and how this country become something we admire in so many ways. Well designed museum with a lots of information and mostly interactive exhibits. It took us more thank two hours to do it quickly and one of us was a 9 year old total museum sceptic whom I could not pull out of it!
The museum covers the 20th Century of Italy, migration, culture, language, what makes Italy and the Italians unique? The multimedia and the videos were informative and entertaining, looking at change through the eyes of members of a family, pop music, food, change and society. The information and interactive displays were very good, kept all generations entertained. I would recommend for engaging staff and exhibitions - take approx 1.5 - 2 hrs
M9 takes you on a journey - or rather, a number of thematic journeys - through Italy's twentieth century: the people, technology, popular culture, politics, conflict and war. There are almost no original obejcts in this museum - instead, immersive technology has been used to fantastic effect to tell stories and make visitors a part of those stories. A lot of information is provided in each gallery but it is not overwhelming. This is a place you can go back to often, and always find something new.
M9 interprets the transformations of Italian society during the 20th century through a host of digital interactives and a limited number of carefully-chosen everyday objects. What I liked most is what I haven't found, namely dusty, hoary memorabilia and a sense of a nostalgia for bygone days. The exhibition is hinged on an optimistic narrative of progress and social development, but without being exceedingly cheerful. Dark moments are not hidden but put in context and correctly interpreted. A common mistake is to rely heavily on technology for the sake of technology, but I was very pleased to see how technology is a mean to an end, not expensive gewgaw to dazzle visitors. It's possible to explore the space according to everyone's taste, either wandering about or following the path suggested by a printed guide. Content appears to have been thoroughly researched and it's plain to see how much thinking went into the planning phase. On a different note, I noticed the almost complete absence of 'high' culture, as the museum deliberately explores Italian history through the lenses of societal changes. It's just me, but I'd loved a multi-layered discourse, maybe having Pasolini musing on the impact of the telly or Eco waxing on social media. Staff were polite and helpful. All materials are translated in English, without the embarrassing pitfalls frequently seen in some more pretentious places in Italy (and abroad!). Loved the photographic exhibition at the top floor, a clean space filled with carefully blended natural and ambient light. Leaving a slew of catalogues for everyone to browse is a masterstroke. All in all, a marvel.